Overview
Everest base camp trek is one of the very popular trekking trips in Everest region. This trek takes you to the base of world's top Mountain Everest. Everest base camp trek starts from Lukla and reach to Tengboche monastery on the way it complete the romantic journey of beautiful places such as Phakding, Jorsale, Namche bazaar and Syangboche. During the Everest base camp trek Tengboche monastery provide relief to the trekkers with stunning glimpse of beautiful mountains such as Everest (8848m.), Lhotse (8516m.), Amadablam (6812m.), Nuptse (7855m.), Island peak (6189m.), Kongde Himal (6200m.), Thamserku (6430m.), and Khumbila (5761m.). Beside the stunning glimpse of the mountains this monastery is also famous for Mani Rimdu festival which is the important festival of Sherpa. During the time of Mani Rimdu festival this monastery is artistically decorated and large number of Sherpa people around the Khumbu region gathers there to celebrate Mani Rimdu festival.
After enjoying in the Tengboche monastery trek climb to Pangboche, sites of Khumbu's oldest Gompa where a yeti scalp and hand relic are displayed. From Pangboche trek follows the Imja Khola which leads east towards the high settlements of Dingboche and Chhukung. The Mountain viewpoint of Chhukung offers superb views of the ice draped southern face of the Lhotse to Nuptse massif. From the confluence of the Imja Khola and Lobuche Khola, the left hand route climbs gradually to Pheriche an unimpressive settlement with tea shops and trekkers' medical post. From there trek finally reach to Everest base camp which offer striking views of beautiful mountains such as Everest, Ama Dablam, Lhotse, Nuptse, Island peak, Lobuche peak and Kwangde.
Everest base camp trekking is also famous for local culture and festivals. Main ethnic people of this region are Sherpa who follow Buddhist religion and live their own unique life style with their own culture and festivals. Trekking routes of Everest base camp pass the important typical villages of Sherpa where trekkers can know and experience the Sherpa culture and religion. Moreover in Everest region there are numerous colorful Monasteries, Gompas, Chörtens and Mani walls which will give the sacred feeling to the trekkers.
Highlights of the trek, stunning glimpse of beautiful mountains such as Everest, Lhotse, Amadablam, Nuptse, Island (6189m.), Kongde Himal, Thamserku, and Khumbila. Sherpa culture and festivals, Monasteries, Gompas, Mani walls, Chörtens, Flora and Fauna of Sagarmatha national park.
Outline Itinerary
Day 01: Arrival in Kathmandu and transfer to hotel

Day 02: Trip preparation in Kathmandu. Overnight hotel

Day 03: Fly to Lukla. Begin trek to Phakding (2652m/8,700ft)

Day 04: Trek to Namche (3440m/11,284ft )

Day 05: Namche – Acclimatization Day (hike to Thame or Khude Khumjung)

Day 06: Trek to Tyangboche (3870m/12,694ft)

Day 07: Trek to Dingboche (4100m/13,076ft)

Day 08: Dingboche – Acclimatization day (hike towards Chukung Ri)

Day 09: Trek to Lobuche (4930m/16,172ft)

Day 10: Trek to Gorekshep (5160m/16,929ft ), visit Everest Base Camp (5357m/17,575ft)

Day 11: Early morning climb to Kala Patthar (5545m/18,192ft),trek back to Pangboche (3860m/12,664ft)

Day 12: Trek to Namche Bazzar. (3440m/11,284ft)

Day 13: Trek to Lukla (2800m/9,184ft) 6/7 hrs

Day 14: Early morning fly Lukla to Kathmandu. Overnight hotel

Day 15: A leisure day. Overnight hotel

Day 16: Final departure transfer
Detailed Itinerary

Day 01: Arrival in Kathmandu- 1350m/4,428ft. Meet and transfer to hotel.
Yala Adventure's representative will be receiving from Kathmandu Airport and transferred to your hotel.

Day 02: Trip preparation in Kathmandu/ Optional sightseeing in Kathmandu, Overnight at hotel.
After having breakfast, you will have choice for sightseeing around Kathmandu or explore by your own. Our representative could suggest the best places to see around while we are in Nepal. In the evening you will have tips briefing at your hotel or Yala Adventure's office.

Meals Included: Breakfast

Day 03: Fly to Lukla. Begin trek to Phakding (2652m/8,700ft),2-3 hours
Early morning we will drive to Airportin Kathmandu for the 35-minute scenic flight to Tenzing and Hillary Airport at Lukla. On arrival at the airport, the guide will brief and introduce our porters before we begin our trek towards Phakding

Meals included: Breakfast,Lunch,Dinner

Day 04: Trek to Namche (3440m/11,284ft ),5-6 hours
Continue trekking along the banks of the Dudh Koshi, crossing the majestic river many times on exciting suspension bridges laden with prayer flags. After entering the Sagamartha National Park, the trail climbs steeply with breathtaking views. Namche Bazaarthe biggest town along the Everest trail surrounded by many restaurants, hotelsand other tourist related shops and money exchanges.

Meals Included: Breakfast,Lunch,Dinner

Day 05 - Namche Bazaar Acclimatization Day
We will spend a day in Namche Bazaar in order to acclimatize. We will have a choice to Walk to Thamel Monastery which is famous on that region or optional hike up to Syangboche Airport and the Everest View Hotel, one of the highest-placed hotels in the world. From where, we can see views of the Himalayan ranges including Mt Everest.

Meals Included: Breakfast,Lunch,Dinner

Day 06: Trek to Tengboche (3870m/12,694ft),5-6 hours
We will again follow the path of Mt. Everest and Dudhkoashi River.We will trekked more 400 meters on that day and reached to an altitude of 3,870m and reach Tengboche. We will visit Tengboche Monastery where we will see incredibly ornate wall hangings, a 20-foot sculpture of Buddha, and the musical instruments and robes of the Lamas. The group will be taken to observe a prayer ceremony either in the evening or in the morning dependent their timing.
Meals Included: Breakfast,Lunch,Dinner

Day 07: Trek to Dingboche (4100m/13,076ft), 5 hours
After Tengboche, the trail drops to Debuche, crosses another suspension bridge on the Imja Khola, and climbs to Pangboche amongst thousands of mani stones. Our uphill trek continues till the traditional Sherpa village of Dingboche with its exquisite views of Lhotse, Island Peak, and Ama Dablam and some other mountains.

Meals Included: Breakfast,Lunch,Dinner

Day 08: Dingboche – Acclimatization day-hike towards Nangkartshang Peak,4 hours
This day is another acclimatization day for our trek. We will take a hike to Nangkartshang Peak just above Dingboche from where you will see the excellent view point especially of the gorgeous view of Mt. Ama Dablam.

Meals Included: Breakfast,Lunch,Dinner

Day 09: Trek to Lobuche (4930m/16,172ft ),5-6 hours
After breakfast we will walk continues along the lateral moraine of the Khumbu Glacier and passes by stone memorials for climbers who have perished on nearby summits. We continue to climb as we are heading to the village of Lobuche which is located at the foot of Lobuche peak.

Meals Included: Breakfast,Lunch,Dinner

Day 10: Trek to Gorekshep (5160m/16,929ft ),Visit Everest Base Camp (5357m/17,575ft),7-8 hours
We will have another difficult day walk along the Khumbu Glacier and up to Gorekshep. We will leave our luggage at Gorekshep and walk to Everest Base Camp. You will have the best view of Khumbu Icefall from Base Camp. On the way back you may see the Gorekshep vally, Mt. pumori and some other mountains.

Meals Included: Breakfast,Lunch,Dinner

Day 11: Early morning climb to Kala Patthar (5545m/18,192ft), Trek back to Pangboche (3860m/12,664ft),7 hours
Early morning you will trek to Kala Patthar from where you will see the best and rewarding view of Mt.Everest range, Everest panorama view and Mt. Nuptse, Pumori, Chagatse, Lhotse and countless peaks. We make a quick descent to Gorak Shep, take breakfast and trek back to Pangboche.

Meals Included: Breakfast,Lunch,Dinner

Day 12: Trek to Namche Bazzar. (3440m/11,284ft), 7 hours
Our descent takes us through Tengboche before continuing to Namche Bazaar.We will leave all the famous mountains behnd us and back to Namche for Overnight.

Meals Included: Breakfast,Lunch,Dinner

Day 13: Trek to Lukla (2800m/9,184ft) , 6/7 hrs- 6 hours
The last day of trekking, we return to Lukla and enjoy the rest of the time with very good memory of Everest Base Camp trek.Talk and make a small gathering with all staffs together at hotel as a success of the trip.

Meals Included: Breakfast,Lunch,Dinner

Day 14: Morning Flight from Lukla to Kathmandu
After early breakfast at Hotel in Lukla you will transfer to Airport for your flight to Kathmandu. After arrival in Kathmandu, you will be picked up from Domestic airport and transfer to hotel.

Meals Included: Breakfast

Day 15: A Leisure Day in Kathmandu
We will have a farewell dinner in Kathmandu. You may share your experience with our office barriers.

Meals Included: Breakfast, dinner

Day 16: Transfer to the International Airport for your departure flight.
Depends upon your flight timing, we will transfer to you to International airport in Kathmandu.

Meals Included: Breakfast
Cost Details
Arrival and departure transfer by private vehicle in Kathmandu
Four night's hotel accommodation in Kathmandu on BB Plan as per category
Guided city tour in Kathmandu by private vehicle (optional)
Kathmandu-Lukla-Kathmandu flight ticket and tax
Meals on full board (breakfast, lunch and dinner) during trekking period
Everest base camp trekking map
Trekking porter /Sherpa to carry your bags during the trekking (two persons one staff)
A local government licensed English speaking Guide during the trek
Group medical supplies (first aid kit will be available) when required
All required special trekking permits including Everest national park fee
All government taxes and our service charges
Lunch and dinner in Kathmandu
Any International airfare and tax
Nepal entry visa fee (visa will obtained at Kathmandu airport on arrival)
Tips for trekking staff and driver (tipping is expected but not mandatory)
All kind drinks (hot, cold and alcoholic)
Sightseeing/Monuments entrance fees in Kathmandu
Your Travel and medical insurance incase of emergency
Any others expenses not mentioned on package Includes section
Equipments Checklist
Clothing
Warm jacket or down jacket
Water and windproof jacket, poncho or umbrella
Long sleeved synthetic fleece
Thermal underwear
Hat, pair of gloves and scarf
Comfortable hiking trousers (loose fitting)
Shorts and trousers, or skirt
2 pairs of warm wool-blend socks
2 pairs of running socks or liner socks
Proper hiking boots
Running shoes and flip-flops
T-shirts

During winter season, additional clothings may include:
The outer jacket should be warm, down jacket is highly recommended during winter season
Bring a pair of warm winter trousers, in addition to the hiking trousers
Bring at least one windproof layer of clothes, helping to reduce any chill factor influence.
Snow gaitors

Trekking Gear
Pair of polarizing sun-glasses (to be comfortable and to avoid potential snow-blindness)
Backpack and backpack cover (against rain and dust)
Map of the trekking area
Head torch, or small torch, plus spare batteries
Sleeping bag and silk liner
Water bottles

Miscellaneous
Toiletries
A small light weight and quick drying towel
Bar of soap
Sunscreen (at least SPF +20)
Earplugs
Insect repellants (for lower elevations)
First aid kid
Water purification tables or a water filter
Some Diamox pills against potential altitude sickness (if going beyond 4,000 m elevations)
Toilet paper

Optional items
Camera, battery etc
Altimeter
Compass
Binoculars
Books/magazines
Trekking poles
GPS unit
Padlocks for guest house rooms and bags
Sewing/repair kit
Pocket knife
Candles (for lodges)
Dairy or notebook plus pencil/pen

Camping
Tent
Stove and fuel
Cooking, eating and drinking utensils
Sleeping mat
Food and water (for the very remote trekking areas)
Map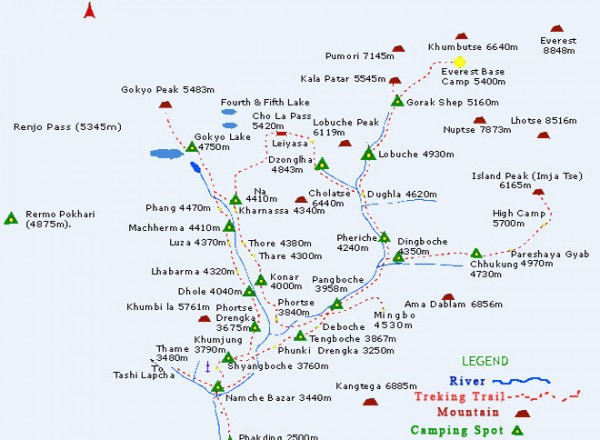 Departure Dates
| Trip Name | Start Date | End Date | Price | |
| --- | --- | --- | --- | --- |
| Everest Base Camp Trek | Fri 10 Dec, 2021 | Sat 25 Dec, 2021 | $1,250 | Book Now |